If you are turning over a rental property, cleaning out an estate, handling a hoarding situation, or doing a home remodel, then you need to know there is a roll-off dumpster alternative. If you are weighing the pros and cons of renting a dumpster versus hiring a professional junk remover, then we have assembled this information just for you. Here are some things to consider when deciding how to get rid of your unwanted junk.
Home Owner Association Rules
Northwest Arkansas has many beautiful communities and neighborhoods. As you consider how to gather and dispose of junk or debris from your home and property, you should be aware of any rules and regulations that your HOA may have about roll-off dumpsters. It is not uncommon for regulations to dictate where a dumpster can be placed. For example, some may require that a dumpster can be placed only in the resident's driveway and that it be a certain distance from the road. Additionally, there may be limits on how long the dumpster can stay on your property before incurring violations.
On the other hand, VTP Services can work within your community's rules. Since we use our own dumpsters and equipment, we can position them as necessary for the job at hand. You won't have to worry about where to put the dumpster or how to load it, because we do it all! Our experienced crew works efficiently to complete the job so you won't have to fret over timelines or HOA violations! Read our post, Junk Removal Resolution, New Year's Checklist Solution, if you want to understand more about the answer for removing junk.
Dumpsters Take Up Space
A typical roll-off dumpster is approximately 8 ft wide by 22 ft long. While some property owners will have little trouble accommodating, others most assuredly will. For example, the narrow streets and hills of areas like Bella Vista, Mount Sequoyah, and many rural areas can be a challenge for residents considering a dumpster rental.
Valet Trash Professionals has a fleet of trucks, trailers, and dumpsters that allow us to serve our clients no matter where their home is located. Our skilled drivers can maneuver into nearly any position necessary to load up your unwanted junk and immediately dispose of it so that the large footprint of a dumpster doesn't have to be a concern. This alone makes VTP a great roll-off dumpster alternative!
Time Frame
How long will it take you to fill a roll-off dumpster with all the junk and debris you need to remove from your home or property? This is an important consideration when deciding between a dumpster rental and hiring a professional. Most roll-off dumpster rentals are for a predetermined number of days. If you require more time then you will encounter additional expenses! On the other hand, if you get down to business and fill the dumpster ahead of schedule, you must still pay for the predetermined number of days.
When you consider the roll-off dumpster alternative of hiring a professional junk remover, perhaps the greatest advantage is the time you will save! VTP's hardworking crew does all the labor required to remove items from your home, load them up, and dispose of or recycle appropriately. We do this every day, so we work efficiently. By hiring us, you remove the unknown timeline and get the job done quickly!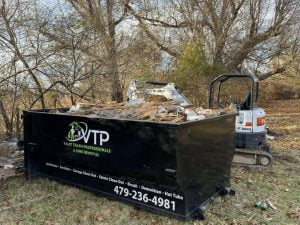 Dumpster Weight Limits
Roll-off dumpsters often come with weight limits. As you are researching your options, be sure to inquire about tonnage limits and added costs if you go over these limits. For most homeowners, it can be difficult to look at your items and estimate their weight in order to stay within set limits.
Professional junk removers like those at Valet Trash Professionals have training and experience to estimate the volume and weight before we ever get started! Not only can we estimate the space your items and debris will occupy in our trailers and dumpsters, but we consider weight when providing your free quote for full-service removal. This way you don't have to worry about the weight of all that junk and you can just be glad when it's finally gone!
Accepted Materials
Not everything can be disposed of in a roll-off dumpster! Waste Management offers this in regards to items that are unacceptable.
Batteries, asbestos, harmful chemicals, flammable liquids and more are considered environmental hazards and should not go in any dumpster. You will be asked to remove these items if you put them in a rented dumpster. Hazardous materials are classified differently by country, state, county and city. Be familiar with, or ask one of our team members, what is acceptable in your area's recycling centers and landfills. Additional fees may be charged for some materials. Be clear and up-front on what you will be putting into a dumpster to ensure you will not be penalized for hazardous content.
If the thought of carefully sorting all items before loading them into a dumpster sounds like a lot of work, that's because it is! It is an added step that home and business owners must be aware of when renting any dumpster or disposing of large amounts of junk and debris. This is to avoid unexpected costs as well as to honor regulations put in place to protect our environment.
Valet Trash Professionals goes above and beyond to sort, recycle, and dispose of items responsibly. When you choose us as a roll-off dumpster alternative, you can be sure that we will do our best to reduce the amount of waste that winds up in the landfill.
The most critical thing to note is that the value of diverting waste from landfills is in the preservation of natural resources. When we recycle, we reduce the amount of raw material needed for making new products.

If you care about diverting scrap metal from the landfill, supplementing secondary metal supplies, and preserving natural resources, then you should definitely recycle scrap metal! But if the big task of doing this yourself is daunting, it may be time to call in the pros. The proper professionals will be able to assess the situation and make a plan for safe demo, sorting, and hauling. When it comes to big jobs, the proper tools are invaluable.
Hazardous Materials and Tires
If you hire Valet Trash Professionals to do your cleanout or renovation debris removal, then we will sort your items as we go. As we remove items from the property and load them into our dumpsters or trailers, we will set aside hazardous items and tires for proper disposal. This way you don't have to do the sorting as you go, but you can still dispose of these items responsibly and often for free! We most often recommend Boston Mountain Solid Waste District to our clients.
Households contain many products which can be hazardous to the health of humans, animals, and the environment. Unused and leftover portions of these products are called household hazardous waste (HHW). Collection centers are located in Fayetteville, Prairie Grove, Springdale, Huntsville, and St. Paul.
In short, Valet Trash Professionals takes the guessing game out of sorting junk and debris when filling up a dumpster!
Who Will Do The Loading?
It goes without saying that if you rent a roll-off dumpster, then you have to fill it up. For many people, this includes rounding up friends and family members who can help get the job done. Even still, some items can be difficult to move and you risk personal injury or damage to your property when you try to do it yourself.
Valet Trash Professionals offers full-service junk removal. This means that we do it ALL! All you have to do is show us the items that need to go and we will take it from there. We have the crew and the equipment to remove nearly anything from your property and load it up while being considerate of your home in the process.
So no matter what you are looking to get rid of, it is worth considering a roll-off dumpster alternative. Turning to the pros will not only save your back, but it might save your timeline and pocketbook, too! 
Cost Considerations
Roll-off dumpster rental costs can vary. First, you must choose the dumpster size you require. Second, be sure to inquire about tonnage limits. Third, consider how long you will need the dumpster. When these three things are combined, you should be able to get a quote for dumpster rental in Northwest Arkansas from your provider of choice. Keep in mind that finals costs can change drastically if you choose the wrong size and have to fill it more than once. Going over your time frame or tonnage will also cause the final cost to go up.
Alternatively, if you choose Valet Trash Professionals to handle your cleanout, junk removal, or construction debris cleanup, you will know exactly what to expect. That's because VTP provides each client with an individualized free quote for our services. When you call on us, we will arrange a time to come see the job. A junk removal expert will take a look at the property and the items to be removed and/or demolished and provide you with a free quote. This quote will cover everything! That means that the quote we provide includes removing all items from wherever they are in your home or on your property, loading them into our dumpsters, and disposing of it all appropriately. You will find our fees to be fair and upfront.
Who is Valet Trash Professionals?
Valet Trash Professionals is locally-owned and operated by Fayetteville native, Kyle McCarty. He has more than 15 years of experience in the solid waste and recycling industry. From municipal trash to luxury valet trash services and residential junk removal to light demolition, Kyle's experience is to your benefit.
If you would like to speak with Kyle about full-service junk removal as a roll-off dumpster alternative, then you can reach him at (479) 236-4981. He is always happy to help you understand your options and choose the junk removal option that best fits your need, timeline, and budget.
VTP provides quality junk removal and demolition to all of Norwest Arkansas. So whether you need furniture removal in Bella Vista, demolition in Fayetteville, a rental property cleanout in Siloam Springs, or junk removal in any community along the way, you can count on us! We are ready and waiting to serve you!
What To Expect When You Choose VTP as a Roll-Off Dumpster Alternative
When you choose Valet Trash Professionals instead of dumpster rental, you can expect nothing but the best. Here's how it works.
Call or text VTP at (479) 236-4981.
Tell us about your junk removal needs and ask any questions.
Choose an appointment that fits your schedule. In many cases, we can even arrange for same-day or next-day appointments to assess your specific needs and get to work quickly thereafter!
Receive a courtesy text when our crew is on the way!
Show us the items that need to go.
Review our free quote and give us the thumbs up to get started.
Stand back as our team does all the work!
Tell your friends that Valet Trash Professionals was the way to go!
Kyle and his team are standing by to serve you, so don't delay! You won't be sorry that you chose VTP's full-service junk removal as your roll-off dumpster alternative in Northwest Arkansas! Call us now at (479) 236-4981!