As people in Northwest Arkansas self-isolate and social distance for the well being of all, it's a great time to stay home and declutter. While many people are working and schooling from home, most of us are also facing unusual amounts of free time at home. The time we would spend out of our homes and on the go has been drastically reduced, so why not put that free time to good use and work together to declutter?
Valet Trash Professionals is working hard to accommodate the needs of our clients, keep our employees working, and respect social distancing guidelines. That's why we're offering contact-free junk removal and bulky waste pick up. Stay home and declutter, accumulate all your trash and unwanted junk in an outside pile, then give us a call to schedule your pick up. We'll pick up your junk outside, and you can pay online!
We're happy to offer some great tips and resources so you can stay home and declutter.
GARAGE
Start your stay home and declutter process in the garage while the spring weather is still cool and comfortable. This is a great weekend family project. Involve the kids, clear out all the junk and trash, organize what you'd like to keep, and follow these tips for keeping your garage space organized moving forward.
Have a place for everything. When you put your keep items back in the garage, don't just pile them up. For the items you want to keep, but won't be using regularly, consider using plastic tubs with lids. This will reduce the risk of pests and keep your items clean and safe for future use. Don't forget to label these tubs clearly so you can find what you need down the road.
Garage hooks. Bike hooks are great for hanging bicycles, tricycles, skateboards, and ride-on toys. Assorted garage hooks are perfect for utilizing wall space to safely store ladders and outdoor equipment.
Overhead storage. If floor space is at a minimum, you may find that overhead storage options are a good fit for your space. Boxes, tubs, and large items that are rarely used can be safely stored in overhead racks, leaving precious floor space available for foot traffic and vehicle parking.
Sports storage. Racks designed especially for storing balls and sports equipment can keep these items from being scattered across the garage. You can properly care for your items, prevent unnecessary damage or loss, and keep everything at hand with the right storage rack.
Temporary storage. If your family tends to strew random items between the vehicle and the house, it will help to designate a place for these temporarily homeless items. Place a tub or basket by the door for those loose items that you can't put away immediately. You'll be surprised at the things that accumulate here. Backpacks, school papers, receipts, jackets, toys, and junk mail is often difficult to tend to immediately, but if it gathers in a central location then you can clear out the basket periodically, keeping the garage from filling up with random junk and trash.
Trash and recycle bins. Decide on the best place for these bins. You'll need to consider any POA restrictions on where bins can be stored, as well as outside temperatures, neighborhood critters, and personal preferences. No matter where you choose to store the bins between collection days, be sure to tie up bags securely to prevent leaks and odor. Rinse out and break down recyclables as you add them to the bin to prevent overflow and mess.
Once your garage space is spic and span, you'll be all set for tackling other areas of your property and home.
ATTIC
Attic spaces can really heat up as the warm summer temperatures draw near, but these cool early spring days are just right for your stay home and declutter the attic plans.
Gather the necessary supplies. Trash bags, a broom, dustpan, rags, cleaning solution, and a shop vac are a great help. Don't forget storage boxes and/or shelving and a marker or label maker for clear storage of items that you'll want to keep.
Dress appropriately. Long pants and closed-toe shoes are a good idea and consider using a bandana to protect your lungs from the dust and debris that you may stir up in the attic clean out process.
Identify and pull out the items that obviously need to go. Forgotten toys, broken mirrors, outdated decor, old clothing, unused furniture, and random boxes of junk? Pull them all out. If you won't use it, it can go.
Separate items you wish to use. Take items that you wish to remove from storage and use to the place in your home in which they will be used. Take clothing and linens straight to the wash. Wipe down furniture and take it to the appropriate room. Dust or clean decor and put in the desired place.
Organize out of season items for safe storage. Place items in storage containers and label clearly. This will prevent you from having to dig through every box and make a big mess the next time you go looking for a specific item. An item is not worth keeping if you can't store it safely and find it when you need it!
Clean and inspect the attic space. Now that you've collected all trash & junk, cleaned items for immediate use, and properly stored the rest, the next step in your attic cleanout is to use a broom/and or shop vac to clean up. Once the area is clean, you should be able to inspect for any possible leaks, pest infestation, mold, or other damage and address any problems effectively.
Donate or dispose of unwanted items. Once your attic cleanout is complete, you'll need to tend to the items you removed. If you have items that are in good, usable condition, consider donating them to a local charity. Northwest Arkansas is fortunate to have many wonderful charities that can use your quality donations to care for our neighbors in need. Add any appropriate items to a donation box and move all junk and trash to your outside junk pile.
SHED
If you have a shed or outbuilding on your property, chances are it could use a good cleanout. As you prepare for a season of yard work, gardening, and outdoor play, take advantage of a beautiful day, stay home and declutter those often overlooked spaces.
It may be time to finally let go of any old equipment in disrepair like lawnmowers, weed eaters, leaf blowers, garden tillers, air compressors, and other equipment. If it can't be fixed and it's only taking up space, add it to the junk pile and VTP can haul it away. The same goes for old tools and shop equipment.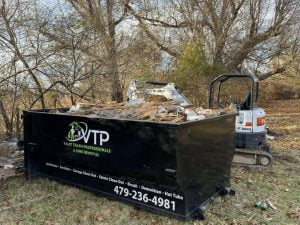 YARD
If you've got children out of school, you need a safe outdoor space for them now more than ever! Stay home and declutter your outdoor spaces and create a welcoming place for your family to play and enjoy. Old dog houses, broken garden tools, old patio furniture, scrap lumber or metal, large play equipment, flower pots, planters, and other bulky items can be added to the junk pile for removal. Check out our blog post on Cleaning Up Outdoor Spaces for more resources on tackling this job.
CLOSETS
When you're ready to tackle the clutter inside your home, closets are a wonderful place to start. Most of us are ready to swap out our winter clothing for our summer clothing anyway and that transition is the perfect opportunity to decide what's really worth keeping and what is better to let go. Freshome.com has some great tips for cleaning out closets that are sure to help you in the process. Perhaps the most valuable, especially right now when the whole idea is to stay home and declutter, is to box up items you think you might not need anymore.
We know it isn't easy to let go of clothing. So why not take baby steps? Do a major clean-out, putting any "maybes" in your giveaway box. Then tape up the box and put it in storage. If you find yourself regretting pulling a certain item from your closet, you'll be able to retrieve it. Odds are, though, you'll like the feel of an organized closet filled only with clothes you love and you'll want to keep it cleared out.
When stores reopen and social distancing is no longer necessary, that box of items will be ready to donate or consign.
BATHROOMS
Clean out the cabinets, check under the sinks, and empty the drawers. Chances are you've got expired items, partially empty bottles, and other items that you no longer need. If you haven't used it in the last year, you aren't likely to use it in the next year. CleanMySpace.com offers this advice.
It's crucial to check your cosmetics and toiletries for signs of degradation. While nothing too harmful can come from using expired products, some may lose efficacy, some may cause minor irritations and some will become downright unappealing and not look, smell or act as initially intended.
We recommend wiping down the items you wish to keep and placing them back into clean cabinets and drawers for future use. Items that need to be tossed should not be emptied down the drain. While some may be harmless, others can cause damage to your home's plumbing or the system at large. Simply place these unwanted and expired items in a box for disposal and add to the junk pile for removal.
Items you may also wish to sort through are towels, storage containers, shelving, and decor. Clean and reuse what you'd like, add appropriate things to the donation box, and dispose of the rest.
KITCHEN/PANTRY
While certain grocery and household items are currently hard to come by, take time to go through your kitchen and pantry and take stock of what you already have and what you may soon need. While your family may typically use certain paper goods, you may find that a quick sweep through the kitchen cabinets provides all the dishes, bowls, cooking utensils, and linens you need. If that sweep turns up mismatched containers, outdated and unsafe small appliances, and never used gadgets, go ahead and clean them out. As you've done up to this point, keep what you need, add what you can to the donate box, and put the rest in the junk pile.
Those who can stay safely at home with plenty to eat are fortunate. As your family continues to stay home and declutter, keep in mind those less fortunate. There are several ways your family can help others at this time. Check with your local food banks for their most recent guidelines on donations during this time. Some may request cash donations so that the most appropriate and safe supplies can be directly purchased, but if you find shelf-stable food items that your family will not use but another might, please consider appropriately sanitizing items and leaving them in a community Little Free Pantry in your area. Check their website for a map of locations.
LIVING AREAS
Last, but not least, take a look at your living areas. Are the kids' rooms littered with old toys, random clutter, and junk? Is there an ancient treadmill buried somewhere in the corner of the master bedroom? Has that living room ottoman finally had enough? Enlist all family members, make the most of your stay home and declutter time, and finish strong. Put wanted items where they belong, add what you can to the donate boxes, and toss the rest to the junk pile.
CALL VALET TRASH PROFESSIONALS
Once you've worked through each area of your home and feel that your junk pile is complete, give VTP a call. We serve all of Northwest Arkansas and the surrounding towns. Whether you're in Bella Vista or Bentonville, Siloam Springs or Senora, Fayetteville or Farmington, we're proud to offer options for junk removal that accommodate everyone safely and provide contact-free service. You can book your appointment online or reach out via text or phone at (479) 236-4981. Our team will come load and haul away your junk and you can pay online. You'll be glad you chose to stay home and declutter!